Peter Brooks is an astute businessman who acknowledges that the personalised service of a good insurance broker can be an empowering experience.
But he is also a man of discernment and like many successful executives he believes in shopping around in order to locate value-for-money suppliers of goods and services.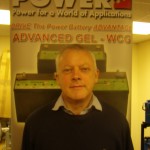 Peter is the Managing Director of Power Batteries Ltd., a market leader in the distribution of battery products and associated services across Europe, the Middle East and Africa.
He is in charge of a workforce of 15 at the company's UK premises at Abbey Park, Romsey in Hampshire, and has built a strong reputation for providing battery power and sophisticated applications within various business sectors including the telecommunications, mobility, data-processing, marine and leisure markets.
Peter, a qualified power electronics engineer, rose through the ranks of industry and has worked in managerial roles since the early 1980s, both at home and in  the Far East.
He took over the reins of Power Batteries Ltd. in 2000, and as sometimes happens with a management reshuffle, decided to evaluate the services of existing supply companies, and if necessary, replace them when contracts came up for renewal.
"I believe that Greenfield Insurance Services was one of the very few which actually survived," said Peter, signifying the esteem in which the independent brokers are held.
"It is a very personalised service.  On occasions Stephen Greenfield has gone to considerable lengths to secure specialised underwriting if we have needed it.
"Through the provision of specialist insurance services it has enabled us to take on and succeed with other business opportunities."
Peter paid tribute to the manner in which Stephen adeptly nurtured connections with underwriters, and said he also appreciated the fact that Stephen was very proactive in his role.
"He undertakes regular reviews and will point out additional facets that can benefit the business," he added.
Peter commented that he was more than satisfied to let Greenfield Insurance Services take care of the major insurance requirements of his company.
"It works for us", he stated. "You have to have peace of mind with insurance.  You need to make sure that it's all in place; that it's effective and gives you the proper cover.
Power Batteries Ltd, Premier Way, Abbey Park, Romsey, Hampshire