Have you considered buying watches for investment purposes?  We've asked watch expert, Richard Berry, to provide some top tips to help you with your purchase.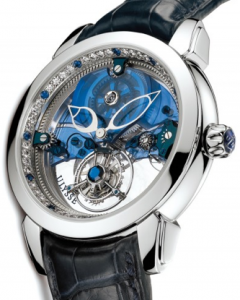 Buying a luxury watch investment is a relatively easy way to make money and add enjoyment while you do it.  There are no guarantees with any speculation, so do not spend money you cannot afford, but the advantage of buying a timepiece rather than shares, is you can wear it and get your money's worth that way, while waiting for the big windfall from a sale.
However there are a couple of pitfalls many potential watch investors make; yes, it helps if you like it, but do remember it is an investment, therefore for re-sale and profit reasons it also has to appeal to buyers as well as you. Some watches are good short term investments as their particular characteristics are fashionable and highly sought after, but as fashions change so will taste, and unless you sell it quickly while the price is high, you could end up losing money.
That said a good classic is as sure an investment as you are likely to find. Buying an already old watch is one way to hedge your bets. A new watch, like any item, will lose value as soon as you buy it, and only over time will it recoup its value and hopefully appreciate considerably. A used vintage watch has already had that time and some research will tell you if that particular watch is gaining or losing worth. The down side of this is that the seller may know exactly what value to place on it and charge premium rates for it, or the watch might already have reached its peak, ready to tumble down the price ladder. There are, however many good bargains out there so this is one route to consider.
Buying a new watch can also be a good venture and many of the top companies make limited editions which may double their value over time. Unless a watch is rare or part of a limited edition it is unlikely to be worth huge sums as there will be many similar ones on the market, and also the watch has nothing to make it stand out. There have been a few exceptions to this and undoubtedly will be again if you wish to take the risk.
A few top
watches for investment

that seem to hold their value no matter what the economy is doing are:

Patek Philippe – at a 2010 auction held by Christie's the best price for a watch was for a 1942, Patek Philippe, 18-karat gold watch which fetched $2.77 million. Patek Philippe really is in a class all on its own as far as investment watches go, although the price tag associated with these timepieces is not small. This company only makes a few pieces each year, the quality is excellent and they tend to buy back some of their watches for their own museum.

Jaeger-LeCoultre – their Master Control models were made to keep perfect time for two generations, so you can sell a watch many years later that still keeps perfect time. This is not the only collectable model as the name is a guarantee of quality.

Cartier – although shunned by some serious watch aficionados as fashion jewellery rather than timepieces, many of the Cartier models have gained value and kept high prices when other brands have struggled.

Other top watch brand names that tend to have a higher value over time are; Vacheron & Constantin, Audemars Piguet, TAG Heuer and Breitling.

Rolex – Rolex is the most collected brand of watch in the world. That means it is a good choice but the market is saturated and you may struggle to buy one at a bargain price or sell it for a decent sum as competition is so fierce.

There are many newcomers to the timepiece scene and if you find the right one this could be a great opportunity to get in on the ground floor, so to speak.

Some Points to Remember:
Make sure it will appeal to others, not only yourself
Sell when the market is looking for that type/model and the price is high
Buy vintage, rare or limited edition watches
Any relevant paperwork is essential to prove authenticity, both for buyer and seller
Beware of watches that are rare because of eccentricities rather than craftsmanship
Watch out, (excuse the pun), for fakes – they abound and are often almost identical outside
Condition is important, as are original components
Research the brand, model and other information before committing to buy
Too rare is not always good as no one knows what the real value is
Do not invest money you might need as this investment may take a while to come of value
Cheap watches make bad investments
Depending on how much you spend on a watch and how many you have, watch insurance is a good idea. If it is worth a few thousand and you only have one or two, it can generally be added to your home contents policy. Any more than a couple of watches and it begins to look like a collection, rather than looking like something bought to wear, and does really need to be insured as such. Even a single watch may have better coverage if it is insured on its own and not as part of general household goods and personal effects.
The best type of policy is some sort of personal articles one for watches and jewellery, (each company calls these by different names, but talk to your broker and he will suggest the best one). This lets you have specific insurance for an exact amount and can cover theft, damage and be tailor made for your situation. These rarely cost as much as most people thing and are well worth the time and little extra money.
This is an investment you can wear and proudly display, gaining enjoyment from it while it is appreciating in worth. There are some lower end priced top brand name watches to be had on the market and if your budget is limited try to find one of these. Good watches for investment will give a better return so do not be tempted to buy five cheap ones when for the same amount you could buy one top of the range watch.
Richard Berry runs the GoodWatchGuide.com