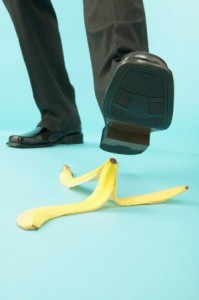 If you're in business, chances are you are going to need Public Liability Insurance; whether you're a sole proprietor, partnership or Limited Company every business, however small, should have the best Public Liability Insurance.
The unforeseen and the unexpected do happen and it only takes one person to decide that you are responsible and BANG! you have a Public Liability claim with lawyers letters arriving on your door mat.
In this article I will explain the process in obtaining the best Public Liability Insurance and hopefully help you through this minefield.
So how do you find the best Public Liability Insurance?
The best place to start is with a Business Insurance Broker. We will discuss with you the various aspects of your business. Where do you work? What do you do? Does it involve employees or subcontractors? What do you turnover? What is your wage bill?
These are all relevant questions which help us build up a picture of your business.
Once we have built up that picture we can then establish the level of cover you require. Limits of Indemnity, or levels of cover, vary from £1,000,000 (although in our opinion this is a little low) up to £10,000,000 for County Council and Larger contracts. Public Liability limits can go as high as £50,000,000 although this is extremely rare and can be difficult to place. However a £10,000,000 limit of indemnity is easily achievable by arranging an Excess Layer Liability Insurance.
It is often beneficial to combine your Public Liability Insurance with other covers such as Employers Liability or if you are a clerical based business it could be combined with office package insurance or working from home insurance. This is often a cheaper alternative to arranging separate Public Liability Insurance.
We would therefore look at this aspect for you and decide upon the best package to suit your needs.
The next stage is for us to obtain quotations from our leading panel of insurers, this could include the likes of Aviva, Allianz, RSA, NIG, AXA, LV= and Lloyds of London.
Simple quotes can be turned around in the same day; more complex quotes can take 3-5 working days if a presentation needs to be submitted to underwriters.
Once we have established the most competitive premium to meets your needs, we will send you a plain English written quotation on our recommendation for the best Public Liability Insurance. We will also phone you to discuss the quote in order to ensure that you understand the terms and conditions of the policy. This could include specific trade warranties, for example the use of heat for plumbers or alarm requirements for large offices.
So in summary you should:
The Insurance Broker will then:
Compare the insurance market to establish the most competitive insurer
Compare the policy cover to ensure it meets your requirement
Send you a written quote and explain any terms and conditions.
This should leave you in a position to have the best Public Liability Insurance to meet the needs of your business and ensure that you are fully protected in the event of the unforeseen happening.
This article is written by James Mant, Partner at Greenfield Insurance Services, James has over 20 years Insurance Broking experience and is here to help you find the best Public Liability Insurance. James can be reached on 01489 579808 or james@greenfieldinsurance.co.uk. Alternatively complete our enquiry form and we will call you back.