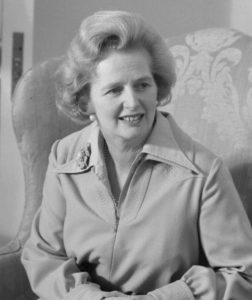 Love her or hate her, the death of Margaret Thatcher this week has captured the nation's attention.  The Iron Lady was a force to be reckoned with whilst she was alive and now in her death, she's been catapulted to historical status.
Whatever your political opinion and feelings for the former Prime Minister, the fact is she is an integral part of our 20th century history.  Her death has sparked a surge of interest in Margaret Thatcher memorabilia, and with it, an increase in the price tag!
So what bargains are to be had?  Well if you start with ebay, you can pick up jugs, badges, christmas cards and photographs all under the £100 price tag (at the moment).  But if you have a budget beyond that,  you might want to refer to the top 5 Margaret Thatcher memorabilia ever auctioned.  Items include a spitting image puppet for £5,040 (a must for anyone who grew up with the satirical show in the 80s), a handbag for £82,110 and even her  Northern Ireland "Battle Bus" at £16,940.
Whether you already have a keen interest in collections and memorabilia, or you are buying for the first time, if the death of Maggie has inspired you to get your own piece of history, make sure you look after your purchase and if its is valuable, check that its included on your insurance.
Read our guides:
Depending on the value of your items, as experts in memorabilia insurance, we can offer insurance as part of your household cover or on an standalone basis.
If you want free impartial advice on how to protect your Margaret Thatcher memorabilia or any other collectible, give us a call on 01489 579808 or contact us via our webform.