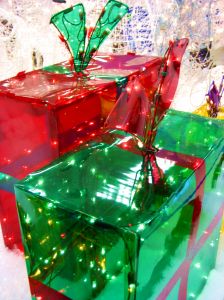 Halloween's over so there's no escaping it now in the shops.  Christmas is just around the corner and with it the frantic rush to get the perfect Christmas gifts for all our loved ones.
Maybe like me you have yet to even get your head around what you are going to buy or perhaps you are more like my friend who by the end of September always has all her present wrapped and hidden away in the loft. (Yes she is far too perfect for my liking!)
According to HSBC Christmas Spending Survey 2012, we each spend on average £350 on presents.   But the Daily Mail last year reported that women hope their partner will spend at least half a week's salary on their Christmas present.  So for the average wage earner of £30,000 that's around £300 but if you're earning £100,000, that's £1000 you should be splashing out on your other half.
Whether you're intending on spending more or less than that, the fact is Christmas does entail a lot of purchases and many of these will be sitting around your house in the run up to Christmas (or if you the lucky recipient, become a permanent fixture in your home) adding to the value of your household contents.
So are all these new purchases protected from loss, damage or theft under your household insurance policy? Understandably insurance is the last thing on our minds at this time of year but for insurers, darker nights and worsening weather add up to an increased risk of theft and damage claims.  (Burst pipes ruining Christmas presents is a common one!)  And the mistake many people make is splashing out on expensive gifts only to find they aren't covered if they are stolen or damaged prior to giving them out.
So if there's one tip you should follow this Christmas when you are buying your presents, it's to check your insurance.
Under our Executive Home Cover policy, you get automatic cover for gifts up to a total of £10,000 (£1000 per item), for a month before and after Christmas. In addition, if you enough to receive an expensive gift that's not automatically covered under your current limits, you have 60 days to inform us of the new purchase and pay the addition premium, just in case you forget to notify the insurers straight away.
Need to upgrade or renew your cover, or just need to check your current limits, get in touch with us via our website or call us on 01489 579808.
Happy Christmas Present Buying!
James & Steve