Ever thought about investing in fine wine but didn't know where to start?
Part 2 in our 3 part series – we have teamed up with Robert Bentley of Foremost Wines to give you the complete low down on whether you should invest in fine wine and how to build your collection.
Read Part 1 Setting Your Wine Strategy
Read Part 3 DIY Guide to Building a Fine Wine Collection
Part 2: Five key questions to ask when investing in wine
In part 1 I emphasised the importance of setting your wine investment strategy by choosing one of four investor types. The wine investment personality you select ensures your merchant receives a brief that accurately reflects your future requirements. This helps ensure that both you and the merchant reap the benefits of a well thought-out investment approach.
For the purposes of this article, two investment types are contemplated: Speculator (only invests for financial gain) and Connoisseur (only invests to fund future fine wine consumption). To supplement the advice fielded in part 1, below are five key facts to consider.
1

What to buy?

Look down a fine wine auction list and you immediately notice the majority of wines are French. Champagne and Cote Du Rhone make it into the charts but Bordeaux and Burgundy are the most prolific lots. Therefore, France will feature heavily in any fine wine investment plan.
2

When to buy and sell?

Any stockbroker will tell you buy low and sell high. Vintage 2000 Chateau Lynch Bages (fifth growth Bordeaux), when released was priced at around £450 per case. Account for storage, insurance, delivery and finance costs and you probably would not have started to make a return until 2006+. However, if you bought Lynch Bages in 2005, approximately 3 years after release, you would have purchased just prior to a growth price spurt. Healthy returns from 2006/07 onwards would have been realised. Yet, deciding what the next 5 to 10 year trading cycle holds for Lynch Bages and others … who knows? The point to make is this. Like any long term investment, you buy wine for the long haul and make the best of the lows and the highs.
3

How to buy at lowest cost?

Buying en-primeur carries a price advantage. Yet, there are risks associated with buying prior to release. Bottle ageing may reveal issues not detected in the barrel. I personally wait until release and shop around for the best price. The web is a good vehicle to use to locate keen prices.

For the majority of fine wine investors though, help from a reputable wine merchant is preferred to buying direct or via the web. Whilst price may be less negotiable, you rely on a wine merchant for your top-class wine purchases. You also benefit from sound advice, nurtured direct grower links and the ease associated with organising delivery etc.

4

How to ensure buyer confidence?

If you are paying thousands of pounds for a vintage car, you will make sure the car is authentic, has been regularly serviced and looked after. The principle holds true for fine wine. Buyers expect their purchases to be in original wooden cases, kept at constant cellar temperature and humidity levels. Even if you are lucky enough to have a perfect cellar, an independent and reputable merchant must vouch for your cellar expertise. You may not get top money, if you cannot prove your wine has been kept in perfect conditions. Therefore, it's best to keep fine wine with a reputable storage operator.
5

Selecting a reputable wine merchant?

A close friend is a wine Speculator and invests in premier league Bordeaux and Burgundies.   Organising professional storage, knowing when to sell or check shipments etc. are not his favoured pastimes. Therefore, he uses the services of a wine merchant. Annual investment levels are agreed and the merchant recommends. However, most merchants will not allow you to be selective regarding vintages. You will probably have to take the good and the bad. A Speculator may regard a poor vintage as reducing expected returns. A Connoisseur may welcome a poor vintage as an opportunity to drink top class wine earlier than expected.

Best advice is to research potential merchants and ask questions. Find out how long they have been trading? How will your wine be stored separately from the merchant's wine? How will you be able to access it? What documents will you get to provide proof of purchase? There are many more questions to ask. If lost, go to The Wine and Spirit Trade Association website. It is a good place to start on the matter of selecting a reputable wine merchant.

Next time we address the issues associated with building a DIY wine collection.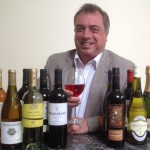 Robert Bentley is one of the four founders of Foremost Wines who are passionate about good wine and believe that everyone should be able to get quality wine at a reasonable price. Foremost Wine Club is a community of fellow wine enthusiasts which helps people learn more about wine types, regions and selection from experts and fellow members. For further details go to
www.foremostwineclub.com
If you invest in wine to make sure you update your insurance cover or take out home insurance with collectibles cover.  Find out more here.