Ever thought about investing in fine wine but didn't know where to start?  We have teamed up with Robert Bentley of Foremost Wines to give you the complete low down on whether you should invest in fine wine and how to build your collection.

Part 1 Setting Your Wine Strategy
This is the first in a trilogy of blogs to help you decide if wine investment is your favoured tipple. Over the coming weeks the positives and negatives of wine investing will be explored. By the third blog, you will have a clear picture of:
Decision process – is wine investment for me?
Investment guide lines – avoiding difficulties?
How do I build a cellar with the aim of partially recovering cost?
If you are like me and don't have £10,000-£20,000 in your back pocket, then you may feel that the question of wine investment is moot. However, irrespective of investment level, ask yourself whether you are thinking of buying: to make money, for pleasure or angling to do both?
Where to start?
First, spend considerable time on researching and developing your investment strategy. I cannot overstate the importance of getting your head in gear before spending money on this, or any other new investment venture for that matter.
Second, assess investment against the extent of your wine passion. In business, having a real desire or belief in what you do shapes outcomes. The same is true when investing in wine or any other pursuit.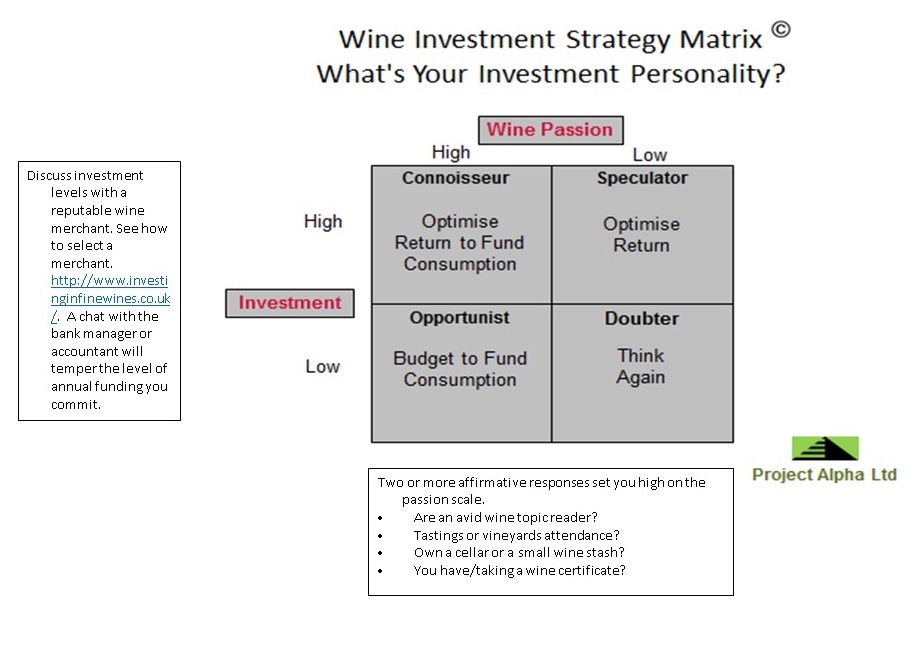 Third, reflect on why you wish to invest. The wine investment strategy matrix defines four investment types. Deciding your type provides the clarity of thought required to build self-confidence. It improves your ability to discuss a wine investment brief in partnership with a reputable merchant.
To help you decide which wine investment personality suits your lifestyle, budget and individual aspirations, answer the questions below.
Speculator
Wine is of little interest to you but you are attracted to wine investment. The key questions to ask are:
What can I comfortably invest and comfortably lose?
Am I willing to wait a minimum of 5 to 10 years before seeing a return?
Have I done my homework and compared fine wine returns against other potential investments?
Connoisseur
Your future cellar is geared to give a return to fully fund new vintages in order to build your fine wine consumption and fuel your passion. These facts mark you as different to the Speculator. With time and experience comes a deep knowledge of premier league wines – you become a Connoisseur.
The strategy to adopt is one which answers the same questions as the Speculator. However, the additional question a Connoisseur asks is:
How will I achieve a financial return that fulfils my future fine wine consumption?
Opportunist
A low investment policy will predominately favour consumption. Occasionally, there is a chance to recover a small recompense at auction or private sale. Therefore, investment is not your main aim. The strategy to adopt is one which answers:
What can I afford as a wine buying budget?
What do I need to buy to cover my wine consumption?
Do I have access to safe storage conducive to keeping wine for several years?
Doubter
Wine is not your passion and you don't possess sufficient funds – invest elsewhere.
Finally
We know that there are no guarantees in this world. However, good planning will undoubtedly help to reduce the financial risk associated with wine investment. Personally, implementing the above process helps me to buy the wine I need to fuel my passion. Selecting my wine investment personality ensures my merchant/s receives a brief that accurately reflects my future requirements.
The result … both parties reap the benefits of a well thought-out investment approach. You will be confident knowing the merchant will set you on the right investment path. The merchant will be content knowing that the future fine wine portfolio they recommend meets your financial needs and fulfils your wine passion for years to come.
Next time we outline the barriers to avoid if you decide to invest in fine wine.
Read Part 2 of our Wine Investment Guide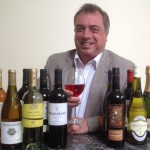 Robert Bentley is one of the four founders of Foremost Wines who are passionate about good wine and believe that everyone should be able to get quality wine at a reasonable price. Foremost Wine Club is a community of fellow wine enthusiasts which helps people learn more about wine types, regions and selection from experts and fellow members. For further details go to
www.foremostwineclub.com
And don't forget if you invest in wine to make sure you update your insurance cover or take out home insurance with collectibles cover.  Find out more here.