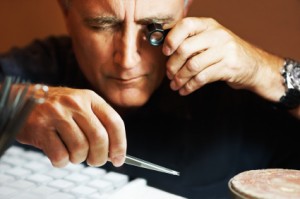 The value of your jewellery can change over time due to a number of factors, including precious metal values, diamond/precious stone values and inflation.  This can mean that your older receipts no longer correctly reflect what it would cost to replace your jewellery today.  Furthermore, you may not know what some of your older or inherited jewellery is really worth.
In most cases, household insurance policies reserve the right to replace items which are the subject of a claim, as opposed to a cash settlement.  In any case, it is essential that you provide your insurer with an accurate account describing exactly what you are insuring and how much it is worth.
In the event of a claim, goods are usually replaced on a like for like basis.  Having an accurate and up-to-date valuation of the goods will help to ensure the replacement is reasonably identical.   It is therefore important that goods are described properly especially where small differences in quality and style can greatly affect price and your acceptance of a replacement.
What should be included in a jewellery valuation?
A professional valuation will provide a comprehensive description of each item and a measure of its quality in terms of the type of precious metal, the size, colour and clarity of any diamonds, and a description of other stones.
It will also include an up-to-date replacement cost, which will help you make sure you are adequately insuring the goods and obtaining the correct level of cover.
Most valuations will include photographs and this again will help describe your goods accurately.
What types of items can you have valued?
We recommend you should regularly assess the insured value of the following goods:
•           Traditional gold, platinum and silver jewellery in all carat categories
•           Antique and specialist jewellery
•           Gemstone set jewellery
•           Solitaire diamond jewellery
•           Diamond set jewellery
•           Loose diamonds
•           Watches
•           Precious metal bullion products
How often should you have your jewellery valued?
In line with most insurers' requirements, it is recommended that you update your jewellery portfolio every two to three years to reflect changes in what you own and market rates.
Where can you get your jewellery valued?
Our preferred valuer is Shyam Fine Jewellery, who offers a discreet and confidential jewellery valuation service.  You can arrange a valuation by appointment in their Wembley store or via their mobile service at your residence/safety deposit box.  Valuations will be prepared and submitted to you electronically and in hard copy.
(If this is not convienient for you, please see our valuations guide for alternative options).
How to book?
In order to arrange a jewllery valuation please call 020 8900 0194 or email valuations@shyam.co.uk
How much does it cost?
Shyam are pleased to offer you the following preferred rates:
  

Location

 

Replacement valuation charge

(% x Total Value)

 

 

Minimum total valuation charge

 

At Shyam Fine Jewellery, Wembley

0.50%

£50

At your residence/safety deposit box/bank

0.75%

£150

 Notes Price applies to any location within 10 miles of the Wembley store.  Additional charges apply thereafter.[The above prices include VAT @ 20%]